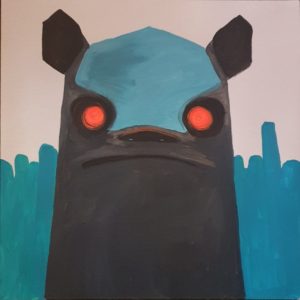 Introducing "Nachtmensch", an acrylic painting that captures the essence of those who cannot sleep. This piece is a captivating representation of the struggles of insomnia. The painting comes alive under black light, illuminating the dark hues of the night, and the subtle nuances of the subjects.
As you gaze at the painting, you'll be transported to a world of endless nights, where the moon and the stars are the only companions. You'll see the figures, lost in their own thoughts, and the longing in their eyes, as they search for a way to rest.
This piece is a must-have for anyone who can relate to the feeling of lying awake in the dark, listening to the silence of the night. Hang it in your bedroom or any room you desire, and let it serve as a reminder that you are not alone in your struggles.
UV-Reactive Acrylic Painting on Cardboard
Size: 36×36 cm
For more photos of the painting, don't hesitate to contact me.